Cannabis is a versatile plant.
Cannabis can create a different experience for each consumer with every different combination of its unlimited components. The large variety of types of cannabis – from indicas and sativas to hybrids – undergo a unique growth process depending on the cultivation that is aimed at bringing out each strain's best individual qualities.
Whether you suffer from a medical illness, or you wish to lift your mood after a long workday, there are a variety of cannabis products available at your favorite Las Vegas dispensary, Inyo. Inyo understands all your cannabis needs and has stocked up on many cannabis products, from basic strains and flower to high-end vapes, and cannabis-infused treats.
Variety is not the only thing that makes us the best Vegas dispensary! At Inyo, we pride ourselves on paying special attention to our customers and patient needs. So much so, that we have implemented a hierarchy of needs, similar to that of Abraham Maslow's Theory of Human Motivation, at our store. We don't just sell cannabis products but take care in helping to find you the best cannabis-product of your lifestyle.
Here are a few ways we do that at Inyo!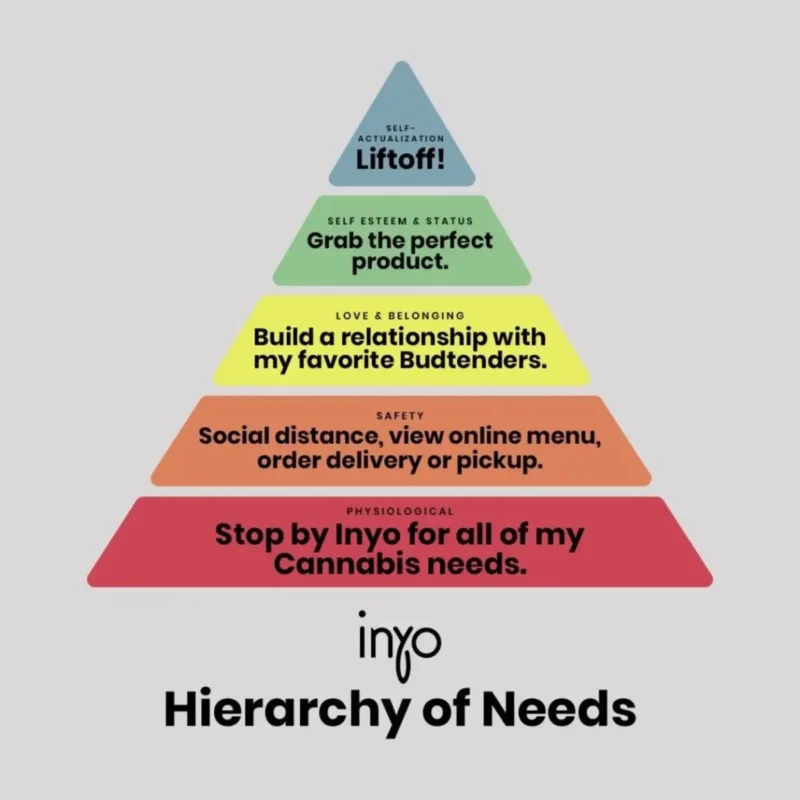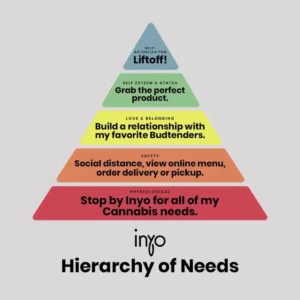 Inyo believes your physiological needs are crucial, and so, we have a perfectly designed pyramid, stacked with your favorite cannabis products to meet each requirement of the hierarchy.

Though safety has always been important, it has become more integral since the pandemic has hit the United States. At Inyo, we offer the same friendly environment paired with safe, social distancing solutions aided by our online menu, delivery, and curbside pickup options.

We understand how difficult it has become to fulfill the need for belonging amid the pandemic. And so, we only have the friendliest budtenders on our team to help you feel at ease and heard, every time you enter our store. To do our part, we offer you the best-in-town cannabis products with a personal touch.

Last but not least, is there a better feeling of self-actualization than finding the perfect cannabis strain or product to fit your needs? We don't think so.
How Can You Buy Cannabis from Inyo Las Vegas?
At Inyo, we make it simple. Just decide whether you are looking for cannabis for recreational purposes or to get relief from a medical condition. If you're visiting us in-store, one of our budtenders will guide you to the perfect strain of flower, vape, edible, or other cannabis products.
If you're ordering online – it's so easy to browse your preferred menu and make a decision. All our menus are detailed for accuracy, showing each product's price, brand, proportions, and description to help you make an informed, but quick decision.
You can choose to receive your order with curbside pickup or get your cannabis products delivered right to your door. Inyo offers both for your convenience.
Curbside Pickup – All you have to do is place your order and pick the curbside option at checkout. Once your order is ready, you'll receive a text message asking for your car's make, model and color, and the parking spot number you are in once you arrive.
With delivery, your favorite cannabis products are on the way!
Delivery – We've made this option even simpler. Place your order any time before 4 PM PST, and your order will be delivered to you the same day! Any order placed after 4 PM PST would be delivered the next day.
Does all of this information make you want to test out our services? Inyo is there for you! Visit us in-store or place your order online for curbside pickup or delivery and let us help you make the easiest decision, even easier with Inyo.