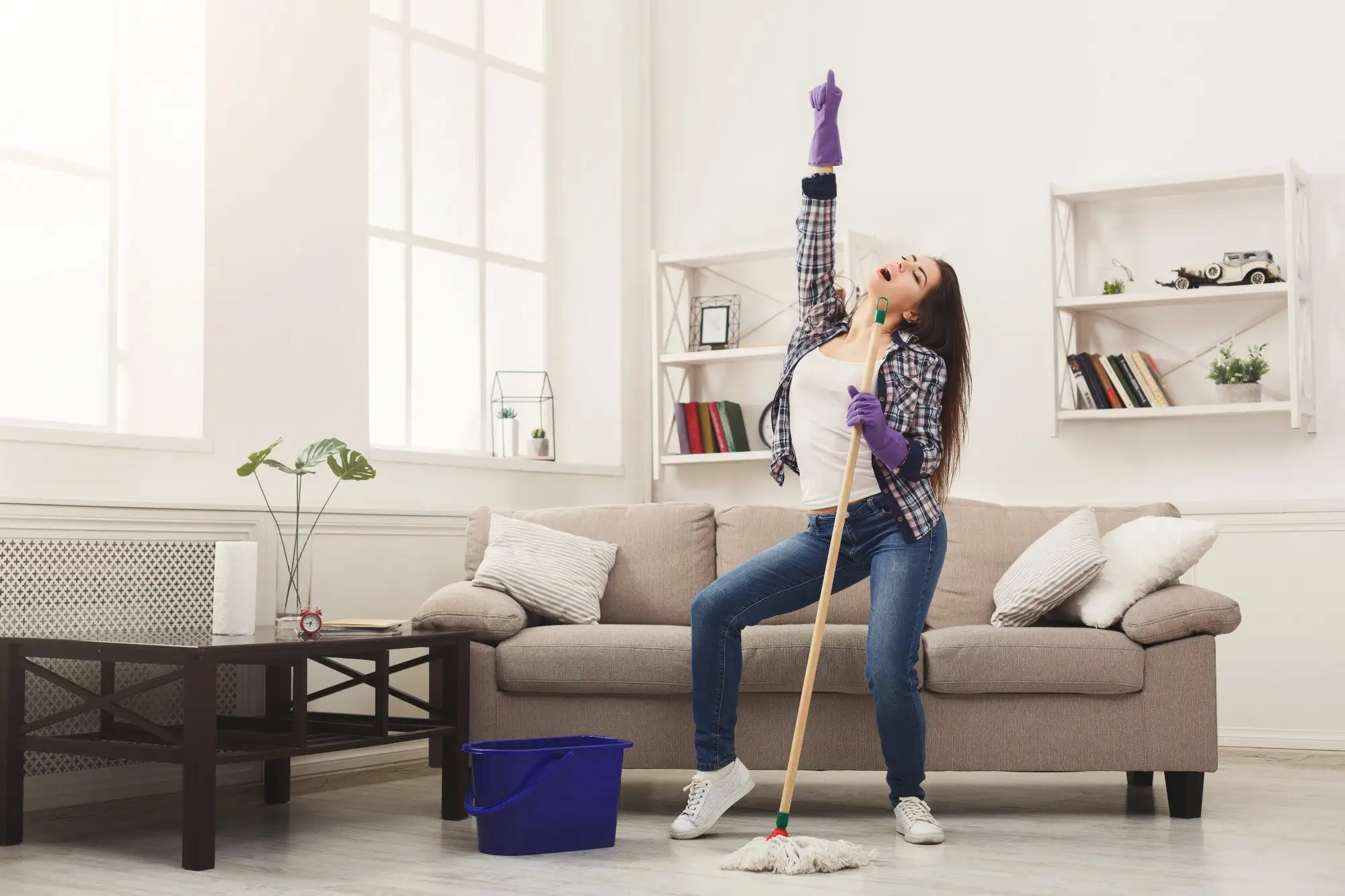 76% of Americans spring clean their homes each year. Which means that the chances are you're also gearing up to tackle this task pretty soon.
Having a clean, serene and organized home increases your happiness levels, reduces stress, and even ups your health according to published research.
But if you are not Mari Kondo (face it, who among us is?) the thought of spring cleaning your whole home can seem overwhelming and daunting.
Which is why we have put together a guide on how to spring clean with cannabis. So that your task can be that much more relaxed, enjoyable and chill.
Check it out.
Choose Your Strain Wisely
Traditionally it has been thought that cannabis consumption negatively impacts productivity. While this may be true in some cases, a new study has been released that shows an increase in productivity in older adults who consume cannabis.
This means if you are a seasoned smoker, rolling up may just be the best pre-spring clean idea ever. But you need to select the right strain.
For starters, you want to make sure that you are going with a strain that is dominated by sativa traits. Indica cannabis is associated with increased relaxation in the body, better sleep, and can be used for insomnia, tension release and as a muscle relaxant.
These are all great properties – but not what you want for your spring cleaning sesh!
In contrast, sativa dominated strains have an enhanced cerebral effect and can increase energy levels, inspiration, and motivation.
Here are some specific energy enhancing cannabis strains which are perfect for spring cleaning time:
Allen Wrench: A sativa dominated cross between NYC Diesel and Trainwreck which is highly energizing and has been likened to a caffeine kick.
Chemdawg: Another sativa dominant breed, favorited for its energizing effects, with THC levels of 15-20%.
Durban Poison: A pure sativa,famous for its energizing capability, which has been known to be called the espresso of cannabis.
Sour Diesel: An invigorating sativa dominant strain that is a fast acting favorite for heightened energy levels and creativity.
Green Crack: Named after an infamous upper, Green Crack produces a sharp energy and honed focus. The perfect mental buzz for spring cleaning.
Harlequin: Produces a subtle and gentle cerebral effect, thanks to a CBD:THC ratio of 5:2. The abundance of CBD counteracts any paranoia that might be experienced with THC dominant strains. Ideal for cannabis consumers who want a mellow yet buzzed effect.
Kali Mist: Known for producing clear-headed and energizing effects, it is a lightweight sativa that is ideal for daytime consumption. Prized among artists for providing inspiration, Kali Mist might be the perfect strain if you need to hit on some inspired organization brainwaves.
If you want to know more about some of the best sativa strains, go and read our guide to best sativa strains in Las Vegas.
Get a Handy Printable
Spring cleaning can get heavy, especially if you don't get organized. To make sure that you don't miss a thing, and are able to plan properly, get your hands on a printable spring cleaning checklist to keep you on track.
We recommend Martha Stewart's Spring Cleaning Checklist. Because c'mon. She hangs with Snoop (renowned for his good taste in bud), and she is a domestic mogul. Who better to guide you in your relaxed spring cleaning project?
Make a List Before You Light Up
If there is anything extra that is not on Martha's list (maybe she forgot to include 'clean the bongs'), make sure that you also make a spring cleaning list of extra things that you need to do.
You may want to add non-house related tasks such as spring cleaning the folders on your computer, spring cleaning your subscriptions, etc.
Work out When to Do What
Spring cleaning takes time, and you may need to space things out over a week or two depending on how much there is that you need to get done.
While consuming cannabis can increase your energy levels and productivity, it can also make your mind race with good ideas. If you don't have a list and a schedule worked out of when to do what, you can become overwhelmed trying to fit everything into one afternoon.
Make a schedule and decide which items on your spring cleaning checklist to do when.
Start with a Clutter Cleanse
Science has established that clutter is bad for our brains and causes stress. And we are all about de-stressing. Especially when it comes to spring cleaning.
This is why the next step of your spring clean up should be to cleanse the clutter. Some of which you may find you can chuck, and the rest can go back where it belongs. Once any clutter has been paired down, you can easily get to work on the bigger tasks.
To make getting started even easier, make sure that you pop in some sweet stoner music.
Get Rid of Any Junk
The next stage is to go beyond the clutter and analyze your bigger possessions. Is there anything you are not using? Do you have broken appliances that are taking up space? Paraphernalia from hobbies you no longer partake in?
If so, channel your inner minimalist and embrace the dumping process.
Tip: You don't have to literally dump everything. You can also organize a garage sale to rake in some $$ or donate items to charity.
Don't Forget to Spring Clean Your Smoking Equipment
Once you have gotten underway with the actual cleaning process of scrubbing, dusting, and vacuuming, remember to give your smoking items some attention.
Equipment that has accumulated smoke or vapor residues will taint any bud you consume with stale flavors. Ruining the beautiful flavors of your favorite strains.
So grab that vape pen, bong, crusher or whatever else you use and get to work.
Tips for How to Spring Clean Cannabis Equipment
Vinegar is a great natural and non-toxic aid for cleaning cannabis equipment. Besides vinegar, rubbing alcohol (for tough areas) a toothbrush, some cotton swabs, and a few pipes cleaners will also make the job go smoothly.
Once you have assembled these items, simply grab your gear and get to work. Most components can be soaked in warm water and vinegar to make cleaning easier. Use rubbing alcohol on items that cannot be submerged in water, and on tough-to-clean areas.
For non-electrical, metal grinders you can dump these guys in a pan of water and bring to the boil before cleaning. This will loosen any resin residue.
Final Word
Are you ready to get your spring clean on yet? We certainly are. We bet that spring cleaning never felt so good now that you know exactly how to spring clean with Las Vegas Dispensary cannabis to keep you energized and inspired.
If you are in need of some killer strains for your enjoyable spring clean-up project, head on over to our bud menu to check out some of the best strains in Las Vegas. And don't forget – we deliver!